×
Success!
Indicates a successful or positive action.
Home Selling Tips
We make selling your home easy with access to recent home sales, a network of certified agents and a great way to save money at closing – with Cash Rewards. Here are a few tips on making your journey even easier: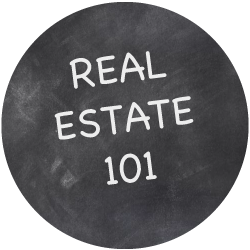 Real Estate Agents 101
Selecting the right real estate agent is a very important step in the home selling process. And because of that, we encourage you to spend a few minutes getting to know just exactly what you should and can expect from them. Here are a few things to consider before you pick your agent:
Two types of agents
There are two kinds of agents. The buyer's agent represents the best interest of the person who is buying a home. A seller's agent represents the best interest of the person who is selling the home. If you are a seller, you may choose to use your seller's agent to help you buy another property, or you're free to find a different buyer's agent. The choice is yours.
Signing an agent agreement
Once you find an agent, you may need to sign an Agent Agreement to show your commitment to them until the contract expires. Please be aware that if you visit homes with an agent before signing a contract, the agent may consider there to be a verbal contract in place as they are taking the time to show you a home.
The job of a real estate agent
When you work with an agent, you can expect them to help you with many things, including:
Finding a home
Selling a home
Scheduling tours of homes
Researching the market, neighborhood and house itself
Making and negotiating an offer, and counter-offers
Providing expert advice on home buying and/or selling
Handling the offer and closing paperwork
And more… there are dozens of other important items an agent can help with
Calculating agent commissions
Generally, real estate is a commission-only business. If an agent works with you as a buyer or a seller without a closed transaction, they aren't paid for their time. However, when a closing does occur, they are rewarded with a commission check based on the sales price of the home.
Commissions are generally negotiable and do vary geographically, but a typical commission is 6% of the sales price – usually evenly split between the buyers' agent and the selling (or listing) agent at 3% each. However it is not a rule and there are many times when the split is negotiated unevenly.
Paying agent commissions
The total commission – for both the buyer's and seller's agent – is always paid by the seller at closing. The fee is subtracted from the proceeds of the home sale. So in one sense, the seller is paying a commission to an agent to sell their house, and commission to the buyer's agent for bringing the buyer to the table. If you are a seller, you should always factor these costs into your home's listing price and expected profit. Note that the commissions are split and then sent to the respective brokerages – the agents themselves are paid by their brokers, minus brokerage fees.
Getting a referral to an agent
Ensure your home buying and/or selling process goes smoothly. That's why you have access to our program and its network of experienced, handpicked real estate agents. When you use one of these agents, you also qualify for Cash Rewards* that can save you $100's to $1,000's at closing! Find your agent today by clicking here – and be on your way to selling AND saving today!
back to top
---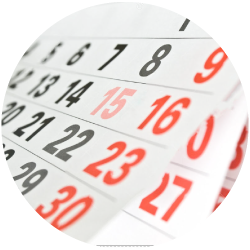 The Best Time to List Your Home
Are you thinking about selling your home? Did you know there is a window of time that many real estate experts consider to be the hottest time to list your home? Nationwide, that time is mid-March to mid-April. But it really depends on a two main factors: where you live, and what time of year it is.
March is dreamy in Arizona. But the northeast is likely still seeing remnants of snowstorms during that time. Even still, data sources show homes sold mid-March to mid-April not only sell faster but also sell at a higher price.  
We recommend consulting a professional real estate agent that is part our program to advise you on specifics in your local market. And if you use one of those agents to buy or sell your home, not only will you get the best local real estate advice, you may also qualify for Cash Rewards* at closing – saving buyers and sellers an average of $1,600 per transaction at closing. 
What would you do with an extra few hundred or even extra few thousand dollars in your pocket? Calculate your potential Cash Rewards by clicking here.
back to top
---
What's My House Worth?
Determining fair market value of your home can be challenging -- the general rules of thumb used by owners and agents vary across the U.S. We suggest using our FREE property valuation calculator or asking an experienced real estate agent in our network that works in your community. However, if you're looking for a "gut feel", there are a few things you can do on your own:
Review recent sales. Gather information about the comparable homes in your neighborhood that have sold over the last six months. A comparable property is one that is similar in size, condition, amenities and neighborhood. Once you locate the properties, note the square footage, number of bedrooms and bathrooms, backyard amenities (like a pool), and age and condition of home.
Evaluate properties currently on the market. Look online at properties that are currently for sale. Consider the number—are there a lot for sale or not many? Are there many homes for sale that are similar to yours? What are the prices of those homes?
Weed out: Weed out the recent sales and homes currently for sale that don't represent your home. For example, if you're selling a single family home, don't consider the condo that sold around the block. Or if your home has been fully remodeled, then you may not want to consider the 20 year-old home down the street in "original condition" that sold two weeks ago.
Calculate an estimate: Total up the sold prices for remaining sold properties and divide by the number of properties to get an average price to consider. Do the same for the homes that are currently on the market. You can also divide the sold price by the square footage to determine a 'per square foot' price on homes sold and homes on the market.
Bring in the experts: Of course these are all DIY efforts to determine your home's value. When you're ready for professional advice, check out the network of professional real estate agents in our network. When you use one to buy or sell your next home, you may qualify to earn Cash Rewards* at closing—the average rebate equals $1,600!
When you're ready for real numbers try our calculator or click here to request a personalized market analysis from one of our certified agents – who can also help you search, buy, sell and save!
back to top
---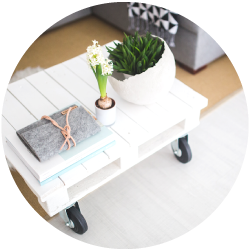 6 Easy Ways To Stage Your Home Affordably
Whether you currently live in the home you want to sell, or it is sitting empty, studies show that staged homes sell faster and for more money! There are many companies out there that you can hire to help you, but for those DIY'ers, here are a few easy and cost-effective tips to stage your home perfectly:
Declutter. Buyers want space, and one of the easiest way to make your rooms look bigger is to remove clutter as well as excess furniture, art and decorations. Consider the KISS principle of keeping things simple.
Depersonalize. Buyers want to imagine themselves in your home – not you! As you declutter, also consider what can be removed that will depersonalize your home like excess pictures, knickknacks and collectibles, etc.
Neutralize. Real estate experts believe that neutral colors help buyers envision their own furniture and family in your home. Whites and beiges are the best hues to create a blank canvas for optimal staging
Light it up. Limited light can make your rooms look small, drab and dreary. If you can't add more natural light through open windows, consider adding floor lamps and table lamps. If your budget doesn't allow for these added expenses, borrow them from a friend or neighbor.
Mirror, mirror. The reflection of mirrors adds light and depth, making rooms look larger.
Closet clean out. Big closets are usually high on every buyers list. So seeing your clothes stuffed in and hanging out of closets will only make them feel like your closets aren't big enough.
Don't forget that while staging the inside of your home is important, the outside is just as critical. So be sure to talk to your real estate agent about ways to improve your curb appeal. Or keep reading below!
back to top
---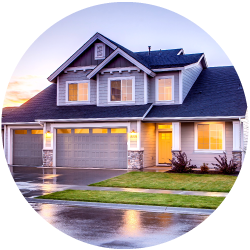 5 Easy Ways To Create Affordable Curb Appeal
Many buyers make an emotional connection to a home the moment they pull up in the driveway. This makes the outside of your home just as important as the spaces inside. Here are five easy ways to create curb appeal without a heavy investment:
Fresh Paint. Adding a fresh coat of paint is always a good choice. However, if you don't have the budget to paint your entire house, consider buying a gallon or two to freshen up the trim, shutters and doors.
Better Mailbox. If your mailbox looks out of sorts for your neighborhood, or is old and weathered, consider upgrading. Mailboxes might seem trivial, but they are certainly part of the overall experience when buyers drive up.
New House Numbers. Houses with old or fading house numbers can look old and fading too. Consider replacing old numbers with new ones, or adding them altogether if your house currently doesn't have them. Like your mailbox, this little detail can set the tone of what's to come inside.
New Light Fixtures. Light fixtures on your patio and at your front door can make a big impact on what your buyer thinks about your home, even in the daylight.
Flowers and Plants. Depending on the season, consider adding pots in staggering sizes full of green plants and flowers to add a pop of color and texture to your entry. The best part of this investment is that potted plants can go with you to your next home!
Don't forget about your backyard and patio too! Backyards can sell homes so if you do some freshening up in front, be sure to carry that through to the back as well! New paint, lighting and plants should all be considerations.
But don't just take our word for it, click here to find an agent who can give you the best insight for your local market – as well as help you save big with Cash Rewards!
If you have any comments or questions about these home selling tips or site content, please email marketing@curealty.com.
back to top
---
Please see Terms of Use for more information.